Dubai's Burj Khalifa moved into adolescence in 2022 with a different type of growth spurt for the world's tallest building. The architectural icon celebrated turning 13 by announcing a sweet 16% increase in residential sales.
Property giant Knight Frank said 94 apartments were sold in the tower in 2022, valued at AED 477 million ($130 million), accounting for 3% of all home sales in Dubai's Downtown district.
The most expensive sold for AED 4,000 per sq.ft, above Dubai's average of AED 3,300 per sq.ft. for prime properties in 2022. Dubai's prime property segment is one of the world's most 'affordable' luxury markets, Knight Frank said.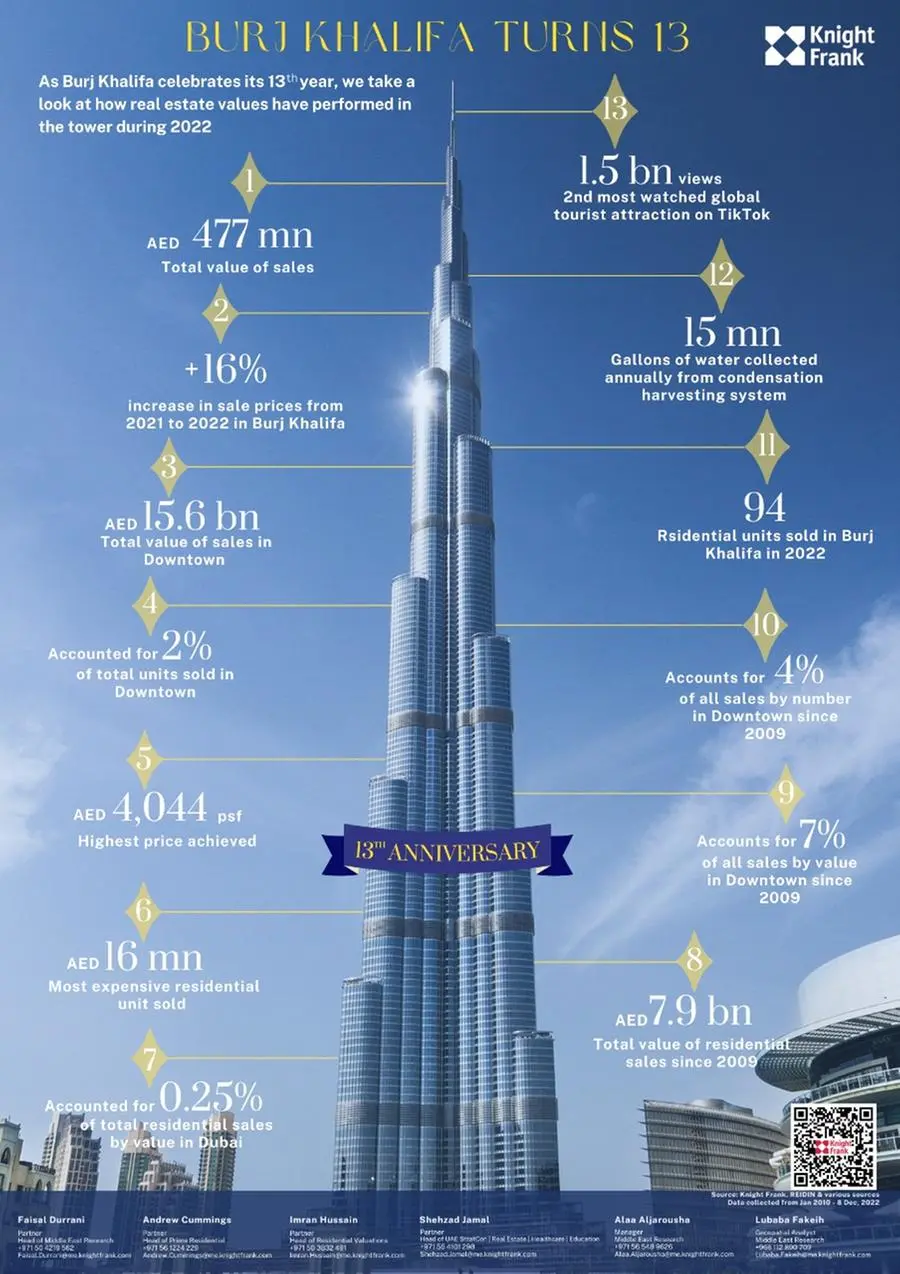 Premium neighbourhoods like Downtown have seen the strongest price growth, Knight Frank said, with Downtown seeing a 16.7% increase, Palm Jumeirah 17.3% and Dubai Hills 19% in 2022.
Faisal Durrani, partner, head of Middle East Research said Burj Khalifa had accounted for AED 7.9 billion worth of home sales since opening, which is 7% of all sales value in Downtown and 0.25% of sales in Dubai since 2010.
Downtown prices have increased by 27.6% since the onset of the pandemic, the second-best performing market in Dubai behind the Palm Jumeirah, where prices have increased by 36.6%.
Meanwhile, Durani said the with yields standing at around 6%, Dubai has seen "the overwhelming majority" of buyers in this property cycle buying second or holiday homes, rather than making speculative purchases.
Prime residential values in Dubai, including Palm Jumeirah, Emirates Hills and Jumeirah Bay Island, have experienced seen record growth during 2022, albeit from a low base, Knight Frank says.
Knight Frank's 2023 global prime residential markets forecast positions Dubai in first place at 13.5%, on the back of an estimated 50% rise in prime residential prices in 2022.
ZAWYA